Speed. Simplicity. Security.
FreightPrint™
Manage all your loads.

Send automated alerts to your customers.

Track and manage your orders (LTL or FTL).

Create electronic BOLs, electronic PODs, GPS Tracking.

Invoicing, load boards, booking, dispatch and much more...
Tired of using complex systems?
Meet straightforward and easy-to-use FreightPrint™. Our proprietary freight management system creates uniquely identifiable FreightPrints which are transmitted securely and trackable in real time by all related parties. Keep sensitive information private with our encrypted, secure service. Our goal is to make complex processes simple, and automate much of mundane tasks, so that you can focus on revenue generating tasks.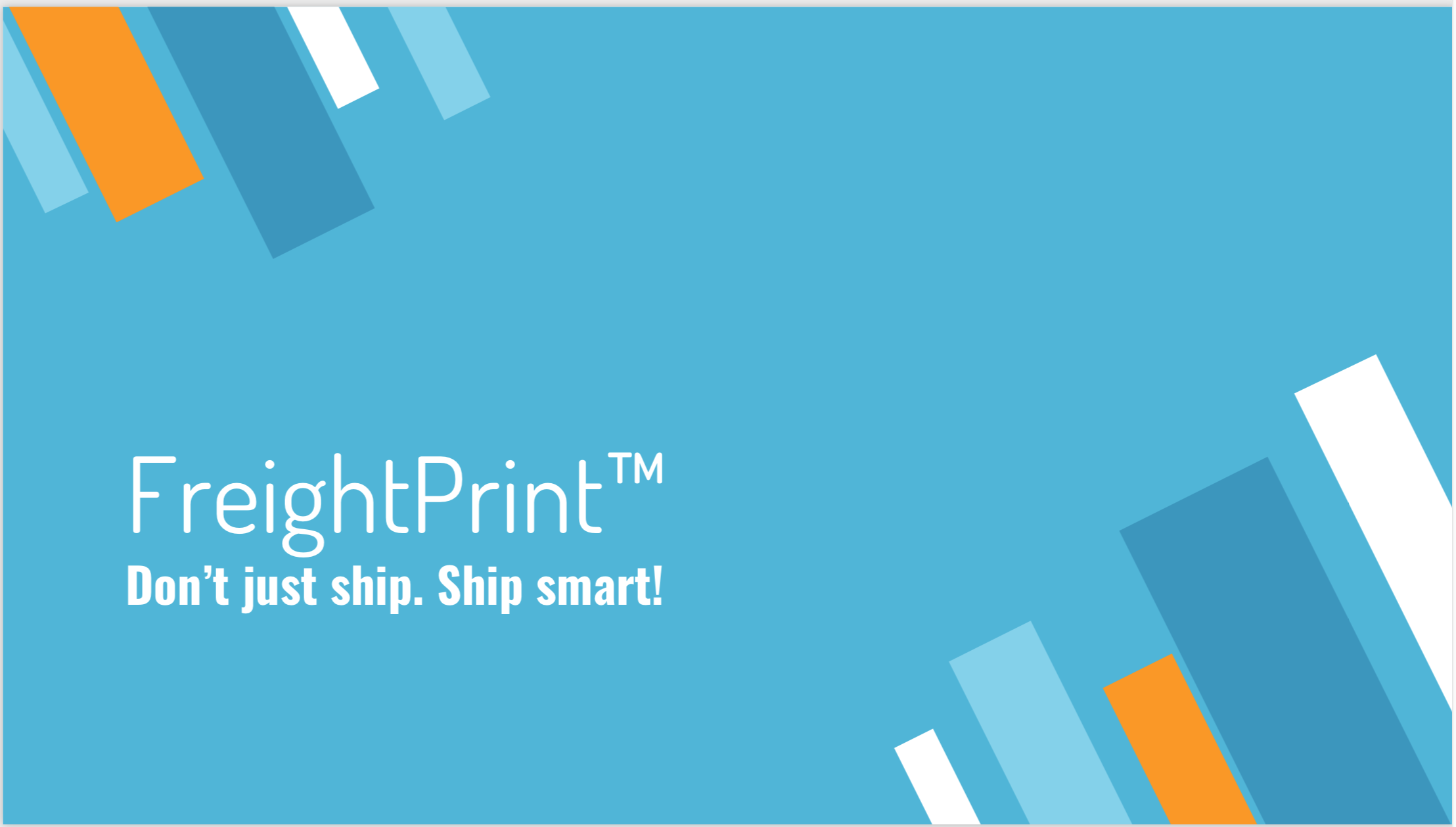 Posted on Nov-01, 2019
The robust functionality of businesses are linked to several factors. Freight services have a vital role to play. The expansion of business has become promising with the services provided by FreightPrint. Every company adores and desires when their shipments are delivered on time and are at affordable rates with top-notch services that incorporate Freight Tracking System, Transportation Management Software, and even Freight Management Software. This specialty area is one element that must be considered before choosing FreightPrint for managing freight seamlessly. Transportation industries, as much indulged they are in freight services, must have value-added benefits that can only be achieved by utilizing commercial service providers. FreightPrint works in this domain designed to utilize tech that is full-fledged in all aspects and is significantly efficient in meeting your requirements with speed, simplicity, and first-class security. Improved technology, Transportation Management software, and Freight Tracking systems have made it easier for businesses to manage freight flawlessly. The world is condensed to one marketplace. However, the impact of globalization has amplified the competition. Various companies are now competing to deliver superior services, which in turn include the timely delivery of products and the use of Freight Management software. Quick, apt, and convenient services are vital characteristics, and FreightPrint provides such assistance to streamline processes, manage documents, increase shipper, and customer satisfaction with Transportation Management software. The success of most business solely depends on the test that it can stand true to its promises, with prompt delivery of products to the targeted market. The transportation of the goods requires extreme coordination, an excellent network system, and exceptional infrastructure. FreightPrint possesses the resources and technology to provide services as such. It is critically vital for businesses to spot companies offering unparalleled freight services. FreightPrint has years of experience working in the sector of transportation. FreightPrint is reputable and has a proven track record in the freight sector. FreightPrint is an experienced third party logistics software provider that has an established network involving the use of sophisticated freight tracking software and freight management software. Aided by this established network, the company offers top-notch services by managing all your loads, sending automated alerts to your customers, track and manage your orders (LTL or FTL), create electronic BOLs, electronic PODs, GPS tracking and welcomes accessible electronic documentation and communication. Using FreightPrint also provides you with a smart, lightweight, and user-friendly mobile app available for your Android and Apple devices.You can scan barcodes, send automated alerts, load tracking while hauling loads, and also send POD and pictures. FreightPrint's goal is to make complex processes simple and automate much of mundane tasks so that you can focus on revenue-generating tasks as you manage your shipments seamlessly without the need for your dispatch relying on paper documents.
Read More...
Testimonials
FreightPrint™ works with carriers, brokers, dispatchers, shippers and other parties involved in the movement of a freight. We can integrate with other third-party logistics companies.

One of the most valuable tools that allows my company to run smoothly and efficiently. Great Resource!

AJ
Freight Carrier

"..FreightPrint™ account allows you to create unique onetime and/or recurring movements."

Overdrive Magazine
Trucking Magazine

FreightPrint™ allows me to focus more on my customers, rather than chasing down paperwork and making status calls.

Ana
Freight Broker
Learn More
Are you curious about how FreightPrint™ could fit in your business? We have free presentations, product demos and much more...
Your company, your message
Want to put your brand and logo on all your documents and our app? We offer white-labeling options for high-volume customers.
Mobile friendly
Logistics is about speed, safety and accuracy. FreightPrint™ mobile app is smart, lightweight and user-friendly, available for Android and Apple devices.
Scan barcodes.

Send automated alerts.

Load tracking only while hauling loads.

Send POD and pictures.
Have More Questions?
We are here to help you.
Our team is available via online chat (24/7) or phone during business hours (M-F, 9:00 am - 5:00 pm Pacific Standard Time). Please write to us using the form below.
Address
13023 NE HWY 99, STE 7, #59, Vancouver, WA, USA
Your message has been sent. Thank you!